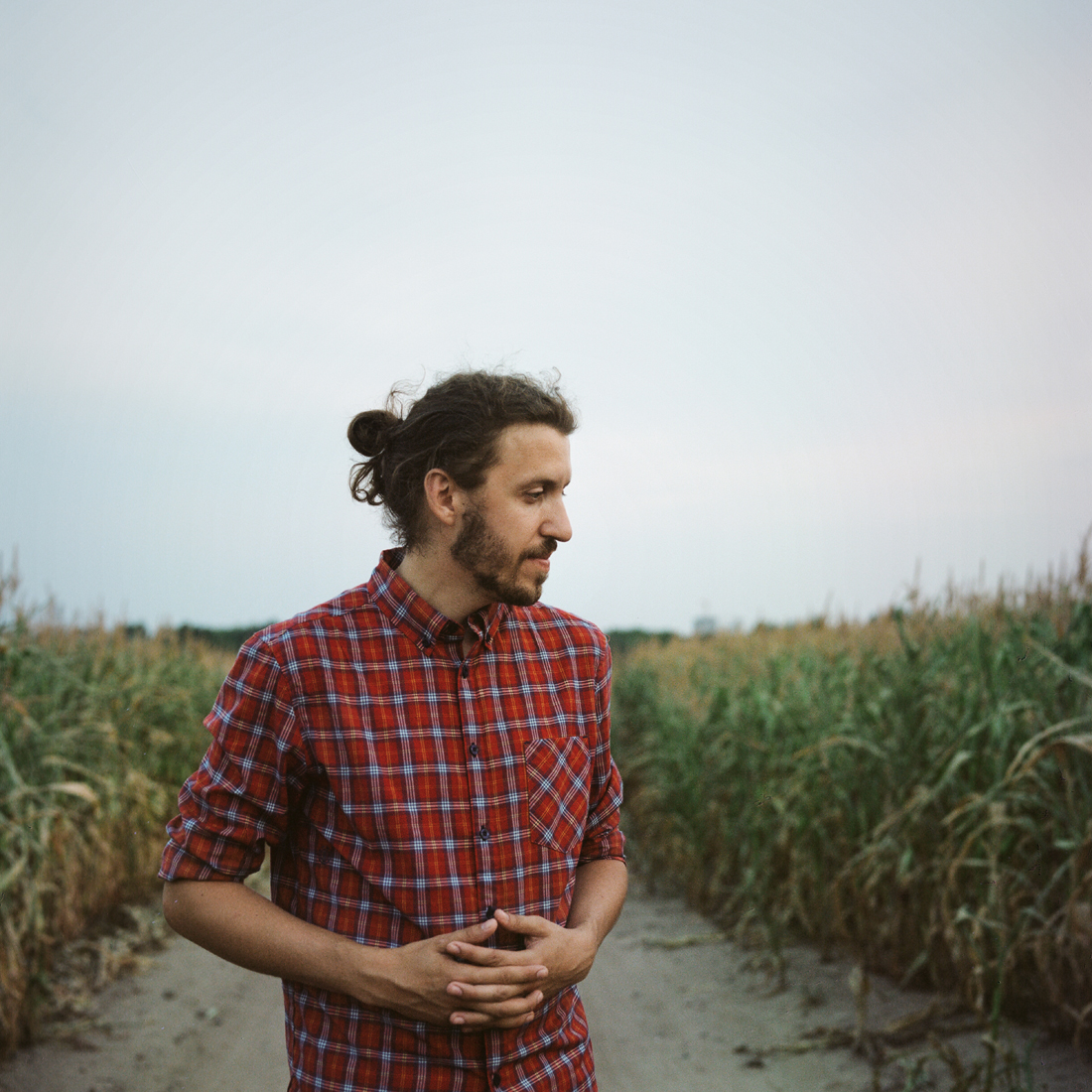 Yauhen Attsetski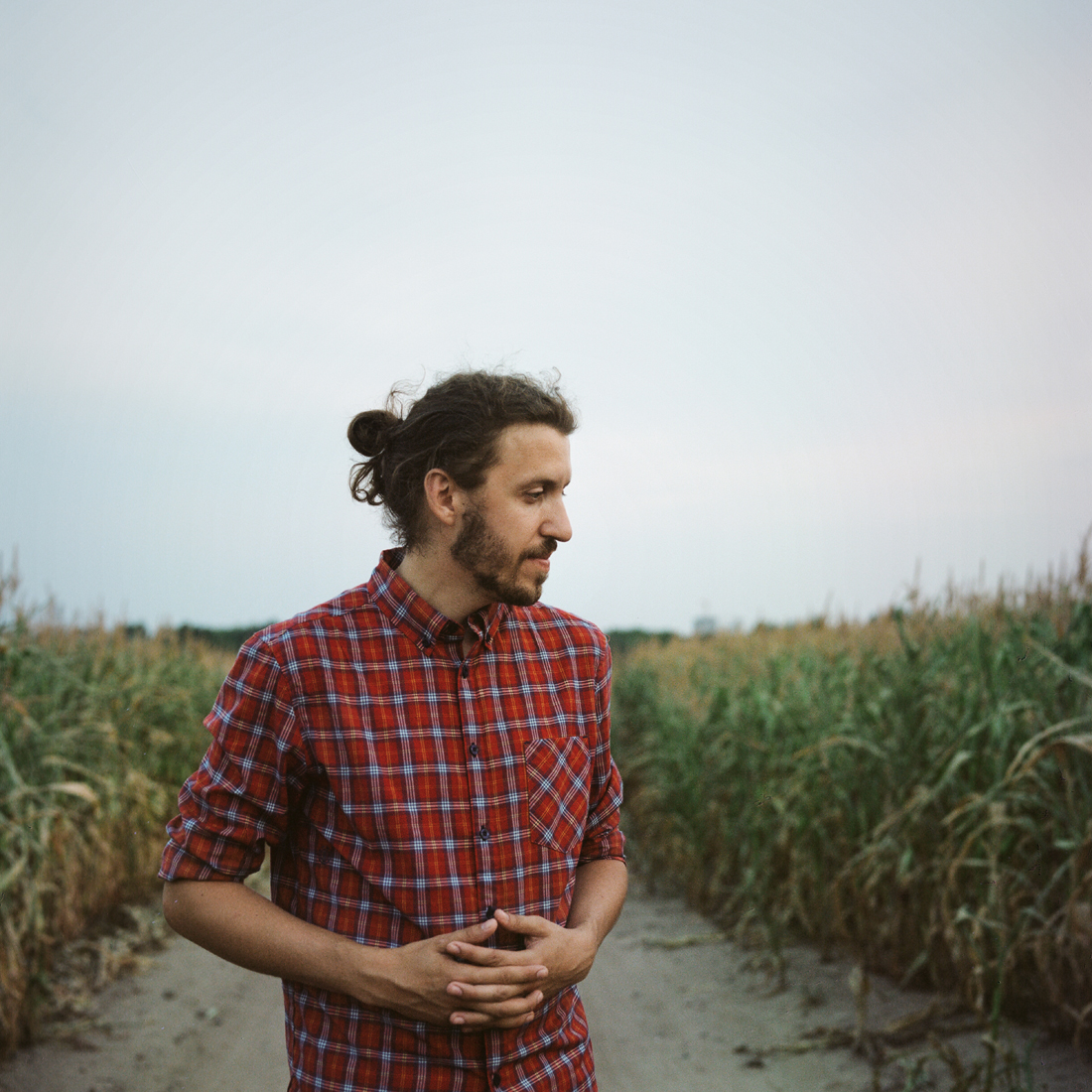 Yauhen Attsetski is a Belarusian photographer based in Minsk, working mainly in the field of documentary photography. As a photographer, he has worked with the UNDP, Red Cross, UNICEF Belarus, Sapiens Mag, and TIMER Mag. He is a co-founder of the school of photography fsh1.
For over 8 months, he has been photographing the Square of Changes in Minsk – a place that became a symbol of Belarusian fight for their rights. The central element of the Square is a transformer cabin where people gathered, sang songs, put flowers and expressed their desire for changes. During Riga Photomonth the replica of the cabin will be created in Janis Rozentāls Square, next to the Latvian National Museum of Art, which will be dedicated to the residents of the Square of Changes and the entire Belarusian people, who have experienced Belarusian prisons over the last 8 months. The walls of the cabin will be covered with Yauhen's photographs from the Square in Minsk.
What is happening with the Square of Changes now?
After the rally that took place on November 15, 2020 it had been broken up and the memorial to Roman Bondarenko (a local resident who was abducted in the courtyard when trying to stop unidentified masked persons from cutting white-red-ribbons off a fence) had been destroyed, the Square of Changes was again subject to round-the-clock police patrol. Police officers literally settled there. Despite that, the locals still manage to occasionally hold protest campaigns and express their political opinions. Local activists take part in district marches and organize protests. The people are not ready to forget the events of 2020, especially Roman's murder. His portrait is on display in the entrance halls of the surrounding blocks of flats and every month the local residents come up with different campaigns in Roman's memory. The police patrol lasted for 142 days. On April 8, the police vehicle left the courtyard. However, the area is still being policed.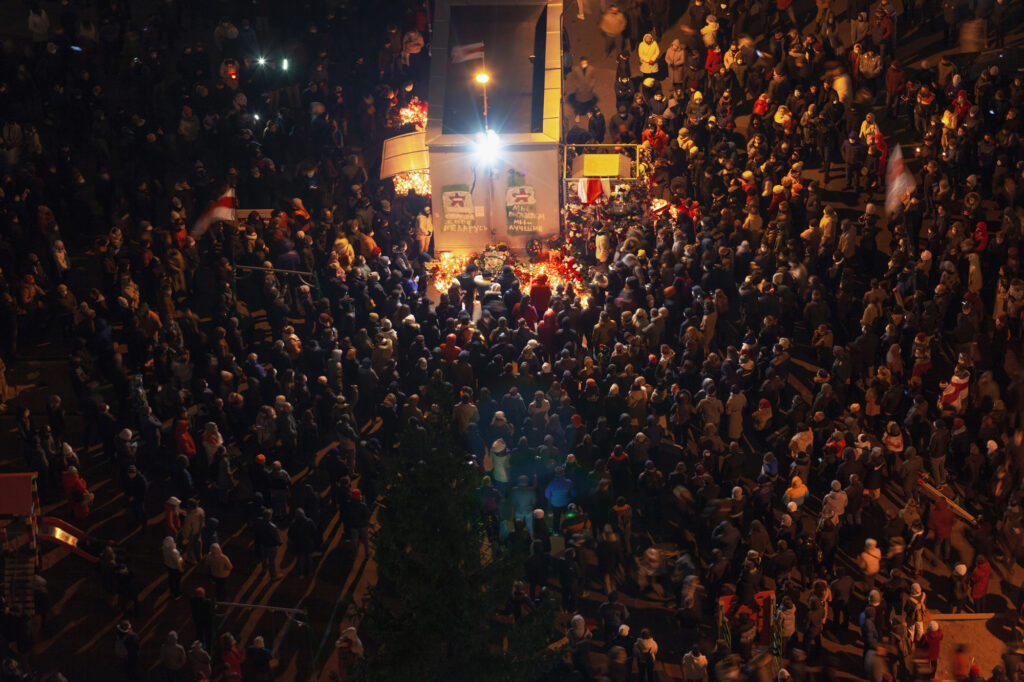 Have you been arrested yourself?
I was arrested on November 15, when the last large-scale citywide Sunday march took place. We were planning to march from the Pushkinskaya metro station, where protester Alexander Taraikovsky was killed, to the Square of Changes, from where local activist Roman Bondarenko was abducted and then beaten to death. As a photojournalist, I realized that what would be happening in the Square of Changes on that day would be very important for my story. However, it was my civic duty to get involved, so I went to the Pushkinskaya station, where protesters started gathering at around 12 pm. We were moving towards the Square of Changes, alternately walking through the backyards and into the avenue. Every now and then, flash grenades were exploding, with the riot police repeatedly attacking the Pushkin Avenue. Starting from early November, the authorities no longer had any limits in terms of suppressing protests. In some sense, the work of the police and internal troops turned into a manhunt. I realized that when I saw a water-cannon vehicle and a convoy of military trucks approaching. Soldiers jumped off the trucks and ran after us. At some point, I decided I didn't want to run away any longer. I stopped, made eye contact with one of the soldiers and then they chased after me personally.
They got me, pulled me down on the ground and hit me a few times with their batons. When I was getting to my feet, they hit me in the face. Then they twisted my arms behind my back in a very unprofessional and painful way and led me to a police van. It was almost fully packed, with layers of people lying on the floor. Newcomers were placed on top of them. Those who were at the very bottom clearly had difficulty breathing. The soldiers, in turn, were playing educators, telling us they would teach us a lesson. That was quite odd, taking into view that among the detained in that police van, as I found out later at the Internal Affairs Department, there were people of respected civilian professions, many of them had university degrees, and each of the soldiers was 25 years old at best.
I was scared because I didn't know what to expect next. The only thing I was hoping for was not to be taken to the Internal Affairs Department of Minsk's Tsentralny (Central) district. This is the police department responsible for the Square of Changes where I have been shooting photos since mid-August. By that time, many police officers and "tikhari" (plain-clothed police officers) had been in front of my camera lens and I was afraid they might recognize me and take additional punitive measures.
But that was exactly where they brought us. The department is located in the vicinity of where I live and not far from the Square of Changes, so after a while I heard explosions again, when the Square was attacked.
I was held at the department until 5 a.m. next day. There were about 200 of us, with most sentenced to prison terms. Me and some other lucky ones were released before the trial. When I was about to leave, one of the local police chiefs came up to me and said: "I know you are shooting the Square of Changes. So, if you come near the fence (to which the locals tie white and red ribbons) again, we'll pin all the fines for illegal activities in the courtyard on you."
The court hearing that took place two weeks later found me guilty under "the people's" Article 23.34. I was fined with 540 Belarusian rubles (about 175 EUR). Paying it off wasn't a problem due to enormous support from non-indifferent Belarusians.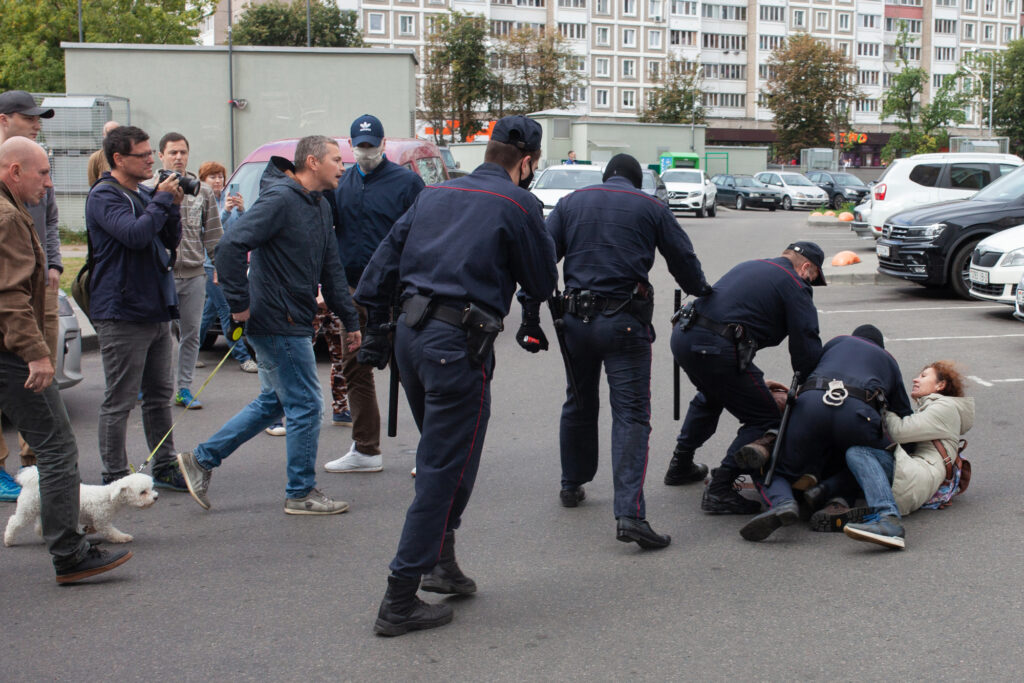 What is the general mood of Belarusians now when there are no more protests?
I think things will not be the same this year as they were in 2020. Protest-minded Belarusians are very much demoralized, primarily because of intensified repressions. You can go to prison or be fined for almost anything. There have been cases when people were arrested, for example, for wearing clothes of the wrong colours or for reading books in the Belarusian language on a commuter train. Even the mildest ways of expressing your political stance are prohibited. At the same time, authorities are using violence on a large scale, e.g. by bursting into people's houses to carry out searches, going after members of Telegram neighbourhood-specific group chats and attacking district marches.
However, the majority of those who took part in the protests in the summer and autumn, haven't changed their views. They just don't know how to counter the lawlessness and stand up to the armed police. In my opinion, the country is in the midst of a political crisis, and no one knows what will happen next.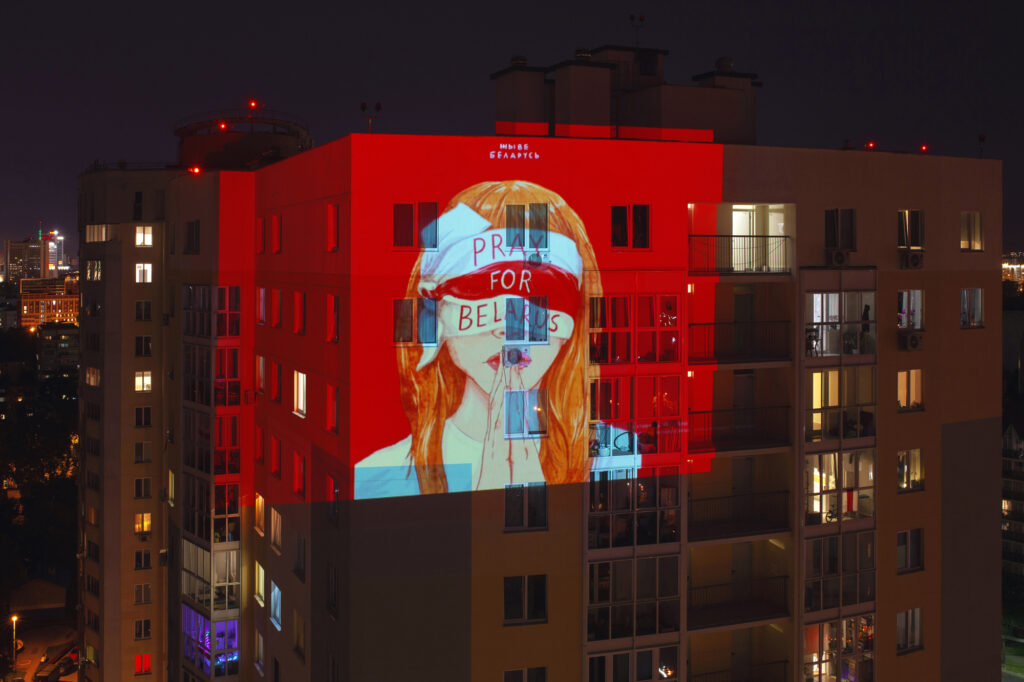 What gives you and other Belarusians hope that changes will eventually happen one day?
In August 2020, the hope was stronger, but today things are not as certain. For the most part, Belarusians used to stay out of politics, but a number of events that happened in 2020 outraged the people and, as a result, made them become political.
Firstly, it was disregard for the people during the COVID-19 pandemic. Secondly, it was blatant vote rigging and obviously unlawful arrests of the presidential candidates. Thirdly, it was unprecedented violence on August 9-11. It turned out that if you had decency and dignity, you just couldn't remain uninvolved.
All of that made such a huge number of people take to the streets. If you add up those who are against the regime, but are scared, that number will be even bigger. This public discontent is the main potential of change, and the state is now actively trying to suppress and fight it. As before, the authorities are hoping to intimidate the people and quiet them down, giving them a choice of being silent or leaving the country.
What are you doing now in Belarus?
My creative life has basically been put on hold. Because of the prolonged tension, my artistic perception has temporarily been atrophied. Besides, my reflective ability has unfortunately decreased significantly. All that remains is to finish shooting and complete what I started, as well as to work with the archives. I'm looking to the future with some concern. One by one, the state has been shutting down the cultural institutions that had at least some authority and influence in the country. Many Belarusians from the cultural scene are now considering whether they should leave the country or stay. Personally, I would be very reluctant to leave.